Did you have tried to play mutil-player games on SNES with your friends? You may have the question that does NES also have such games? The answer is Yes!
You can use NES Four Score to play them. So, what is it?
NES Four Score
 It is a multitap accessory created by Nintendo in 1990 for the Nintendo Entertainment System. Select games can utilize it to enable up to four-player gameplay. The NES Four Score is similar to the previously introduced NES Satellite, a device that allows four players to connect to the NES and extends the range using infrared wireless communication.
Prior to the advent of multitap support on NES, the NES games which support more than two players, require the players to pair up and then alternate turns while sharing the same pair of NES controllers. Some games that originally feature support for more than two players, such as some arcade games, support only two simultaneous players in their NES versions.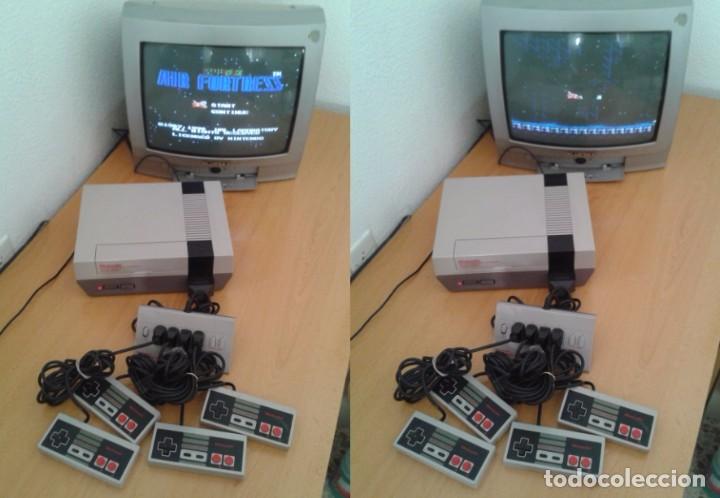 The NES Four Score plugs into both controller ports on the NES console and allows input of up to four NES controllers. On the NES Four Score, there is an option to switch between two-player and four-player modes, and there are turbo A and B buttons that give any of the connected controllers a rapid-fire boost. The NES Four Score can also be used as a controller extension cable because the wire which leads from the accessory to the NES is several feet in length.
Here comes another advantage of the modern emulation consoles, which usally has more than 2 USB ports (The Sonicon SNES Ultimate has 4 and supports up to 5 players) 
These licensed games are compatible with the NES Four Score, for more than two concurrent players:
Bomberman II
North American cover art
A Bomberman named White Bomberman is framed for terrible crimes by Black Bomberman. After being accused of robbing a bank, White Bomberman is thrown in jail. Bomberman's mission is to escape his prison cell and bring Black Bomberman to justice.
The game follows the classic Bomberman formula: Players control Bomberman, who is in a room full of blocks and enemies and must plant bombs to destroy the blocks and enemies. Several blocks contain power-ups (such as blast radius increasers or fuse shorteners), and one in each level contains a door, which takes Bomberman to the next level.
Danny Sullivan's Indy Heat
North American arcade flyer of the arcade version.
Indy Heat featured four-player capability and was similar in gameplay to Super Off-Road. Players earned money based on their race finishing positions, which was spent on improving their car. The race season culminated with the Tradewest Speed Bowl, which loosely resembled the Indianapolis 500.
The Way of the Exploding Fist
ZX Spectrum Cover art (拳道)
The player takes part in a series of one-on-one karate matches, all overseen by a wise old expert who appears in the background. Once the player defeats an opponent they move up to the next stage and a more difficult adversary. Fights are not won using the energy-bar style found in modern fighting games; instead, the player needed to get two complete yin-yangs. Any move that connected with the opponent would end the round; a loosely timed or borderline kick or punch would obtain half a yin-yang icon, while a well-executed move would obtain a full icon. Two complete icons ended the bout and progressed to the next level.
Gauntlet II
Arcade flyer
Gauntlet II is essentially an expanded version of the original Gauntlet. Like in the original game, there are four character classes to play as, with the choices being Warrior, Valkyrie, Wizard, and Elf. The main difference from the original game is that multiple players can now choose to play as the same character class. Because of this, each player is now distinguished by the palette of their character, with red and blue being in all versions of the game, while yellow and green are featured in the 4-player version. New voice samples were added in Gauntlet II, identifying each player by their color and class (e.g. "Yellow Elf", "Red Wizard").
Greg Norman's Golf Power
Cover art
Other than bearing the name and likeness of Australian professional golfer Greg Norman, the game is distinguished from most other golf simulations by providing a hole-design mode in which you can create and customize your own 18-hole course. The cartridge contained a battery back-up that allowed the player to save their created course. Along with the hole-design mode, there are four pre-set courses, taking place in England, Scotland, the United States, and Japan.
Harlem Globetrotters
NES cover art of
Harlem Globetrotters
Unlike most other basketball video games, there is only an exhibition mode in this game where the player can play as either the Harlem Globetrotters or their long-time rivals, the Washington Generals. The player can even pull down the referee's pants or trip the ref when a free throw has been called when playing as the Harlem Globetrotters.
Kings of the Beach
Commodore 64 cover art
The player can play as Sinjin Smith and Randy Stoklos. The game features three modes of play: practice, match play and tournament. In the latter, you progress through five beaches (San Diego, Chicago, Waikiki, Rio de Janeiro, and Australia) filled with increasingly challenging opponents as you attempt to win it all. While Smith and Stoklos are joined by Ron Von Hagen, Tim Hovland and Mike Dodd as the only 'real' volleyball players featured in the game, EA spiced up the competition with some notorious characters from other games, including Hard Hat Mack and Lester from Skate or Die and Ski or Die.
 Magic Johnson's Fast Break

 

 
US Amiga release

The game features two generic basketball teams. Most versions of the game have one- and two-player modes. The NES version is one of a handful of NES software titles to support three- and four-player simultaneous play using either the NES Satellite or NES Four Score console accessories. The multiplayer modes allow competition in single games, but there is no tournament play.
Monopoly
Game Boy box art
The game contains very similar gameplay to the board game it is based on, with various physical tasks being replaced by automation and digital representations.
Monster Truck Rally
Scan of the front cover of the packaging
In the game, monster trucks rally on long dirt tracks; compete in special events such as automotive tug of war and sled-pulling; and perform maneuvers such as driving in doughnuts and crushing stationary cars. In Track Builder mode, players can design their own special stage to drive on.

Monster Truck Rally is one of a minority of NES software titles to support the NES Four Score and NES Satellite video game accessories[citation needed], allowing up to four players to compete in the game.

This Box cover from 1991 features an illustration by Marc Ericksen
M.U.L.E.
Set on the fictional planet Irata (Atari backward), the game is an exercise in supply and demand economics involving competition among four players, with computer opponents automatically filling in for any missing players. Players choose the race of their colonists, which has advantages and disadvantages that can be paired to their respective strategies. To win, players not only compete against each other to amass the largest amount of wealth but must also cooperate for the survival of the colony.
NES Play Action Football
Box art of NES Play Action Football
NES Play Action Football allows players to choose from eight teams from various cities. For licensing reasons, the original game features only the city rather than the actual name of each NFL team and only the surnames and numbers (although a comprehensive set down to various position-specific levels on each depth chart) of actual players that were currently playing for the corresponding NFL team during the 1989 NFL season: Los Angeles, Denver, San Francisco, Washington, Miami, New York, Chicago, and Houston. In the Virtual Console re-release, the city names are replaced by country names, so Los Angeles is Japan, San Francisco is Italy, Miami is Mexico, Chicago is China, Denver is Korea, Washington is England, New York is Brazil, and Houston is U.S.A.
 A Nightmare on Elm Street

 
Cover art

The player takes on the role of an ordinary teenager. Additional teenagers can be controlled by up to three other players with the use of the NES Four Score. The objective is to scour the vicinity of Elm Street, collect the bones of the supernatural serial killer Freddy Krueger and dispose of them in the local high school's furnace.
Nintendo World Cup
North American Cover art
At its core, the game follows the rules of football, but with noticeable differences. Each team has only six players (a goalkeeper, two defenders, a midfielder, and two forwards). You control only one of them, but you can give commands (Pass/Shoot) to the others. Offsides are non-existent and fouls are not punished. Players can be knocked out by repeatedly sliding, tackling, or shooting them, afterwards, they will stay down for the rest of the half. Players can also use up to five "super shots" per half; these powerful, odd-looking shots are used whenever a player does a bicycle kick or a diving header, or when he shoots after walking a certain number of steps. The "super shots" differ from team to team. The playing fields also differ in respect to material, e.g. ice, which heavily impacts the movement of players and the ball.
R.C. Pro-Am II
R.C. Pro-Am II is a racing video game in which four vehicles compete on a series of 24 different tracks: eight standard racetracks, eight "cityscape" tracks, and eight offroad tracks. The difficulty level increases between each type of course. Players must navigate around course obstacles to finish the race. In the single-player mode, the players race against three artificial intelligence opponents. The game also has a multiplayer mode in which up to four human players can race against each other. The objective of each race is to finish in the top three places to receive race points and money, which is used to upgrade vehicles and buy weapons. The top three finishers are qualified to participate in the next race while other players must use a continue. The game ends when the players run out of continues.
Rock'n' Ball
North American cover art
There are several gameplay options in the game. Some are; "regular pinball" for up to four players which resembles a game of Pac-Man (rock and roll in the North American version), "nine-ball" where balls are knocked into a Bingo pattern, "battle pinball" (which operates more like Pong instead of pinball), and "sports pinball" where the pinball game becomes more similar to a soccer or hockey field.
 Roundball: 2-On-2 Challenge

 
North American cover art
Roundball: 2-On-2 Challenge is a two-on-two basketball video game for the Nintendo Entertainment System that is played on a half court.

Games are played in an arena with a scoreboard and crowd.

There is also an option to play a one-on-one game. The game modes contain an exhibition game and a tournament mode. Four teams play against each other in a round-robin format in order to determine the winner. Games can be set for either four, eight, twelve or sixteen minutes. Players can choose from 24 fictional basketball athletes - named after the game developers - who each have their own individual stats. The referee is capable of calling fouls in this game.
 Spot: The Video Game

 
Gameplay is based on a smaller scale concept of the Chinese board game Go, which originates from over 2,500 years ago. It takes place on a 7x7 board, though in some variations, certain locations on that board would be unavailable.

Two to four players alternated turns, with each player controlling pieces of a specific color. On each turn, a player selects an existing piece of his color, and then an empty position one or two squares away. If the selected location is one square away, a new piece is created in that location; otherwise, the chosen piece moves from its original location to the new location. In either case, all adjacent pieces are then changed to that player's color.
Smash TV
Arcade flyer
The play mechanic is similar to that of Eugene Jarvis' earlier Robotron: 2084, with dual-joystick controls and a series of single-screen arenas. While most of the enemies Robotron are visible at the start of a level, in Smash TV they are generated in waves as a level progresses. Power-ups, some of which give the player a new weapon, are picked up by running over them.
Ivan "Ironman" Stewart's Super Off Road
Game inlay
In the game, up to three players (four in the NES version through the use of either the NES Satellite or NES Four Score) compete against each other or the computer in racing around several top-view indoor off-road truck tracks of increasing difficulty.[4] There are eight different tracks (twelve in the SMS version and sixteen in the SNES version) and 99 races altogether on most versions (the SNES version loops through 64 races without ending).
U.S. Championship V'Ball
Japanese sales flyer for
U.S. Championship V'Ball
The player takes control of a pair of self-described beach bums named George and Michael who make their living playing beach volleyball against locals. One day, they find a flyer for a nationwide beach volleyball tournament offering the winning team a $2,500,000 cash prize.
Swords and Serpents
Swords and Serpents can be played by one, two, or four players (by use of the NES Satellite or other 4-player adapter). Control of the characters is divided evenly among the number of players, but one player must be chosen as the party leader to control navigation through the game. Upon starting the game, the player creates a party of four adventurers, choosing one of three available classes for each character: warrior, thief, or magician. Character statistics can be randomly generated, or the player can choose a prefabricated party which includes characters of each class plus another magician. Continuing the game requires the player to record and later input five passwords: one password for each character, and the fifth password for overall game progress.
 Top Players' Tennis

 
In single-player mode, the player may compete in the four Grand Slams: the Australian Open, the French Open, Wimbledon, and the US Open. To compete in the Grand Slams, the player must first win the qualifying tournament, the Asmik Open.

With a multiplayer console accessory such as the NES Satellite or NES Four Score, Top Players' Tennis accommodates up to four simultaneous players. Singles, doubles, or mixed doubles are all available for play.